Date
: October 31st - November 1st
Type
: Holiday/Group
Cost
: $$
Planned By
: A bunch of people
October 31st -
This was our first Halloween in our house! I was super pumped to pass out candy. Halloween is one of my favorite holidays because I love seeing the creativity in costumes - and I love being creative and making costumes. So we decorated the house with some spider webs, little monsters and pumpkins. We also put some scary music on, turned on a black light and had a strobe light flashing in our spare bedroom window. Adam and I dressed up as a pastry chef and doughnut and sat on the porch with our bucket of candy. It was so much fun seeing all the kids dressed up in adorable and scary costumes. And the kids and parents enjoyed our decorations and costumes. The weather was pretty bad, but we still got a good amount of trick-or-treaters.
here
and
here
.
November 1st -
Saturday was the Second Annual Towne Beer Olympics (
check out last year's Beer Olympics
). This year because it was on Halloween weekend we we encouraged to dress up. I messaged some of my teammates about potential team costumes and we decided on the super clever idea of being Care Beers/Beer Bears/Care Beer Bears - we had a bit of an identity crisis when it came to the name, but essentially we were Care Bears with Beer logos on our bellies and red solo cup stickers on our butts. I had everyone get their color sweatshirt and made the rest.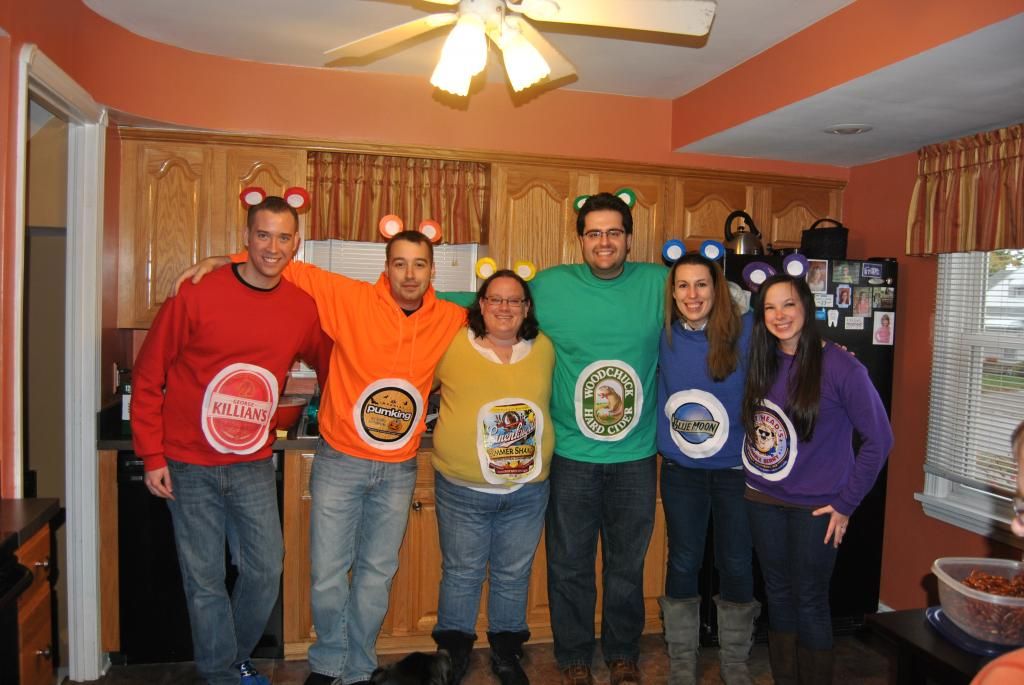 Even though it snowed a couple times we had fun meeting some new people and playing fun beer games. We started out playing beer pong and beer ball. Our team was not the front runner in these games, but when we got to Flip Cup we dominated. We also lost at the Ice Cube Tray sucking challenge - but we were first team to go so that was probably the issue. We didn't get to play all the games against all the teams, but we were doing a pretty good job pretending we weren't the winning team. After a little while we started playing the other games for fun.. including our team's new favorite game Chandelier (I'm not sure if this is the real name).
Overall, we had an awesome time, and I'm excited for next year. A little friendly competition is always a good time even though I am usually labeled and admit to being a sore winner and sore loser. Although I do want to make note that Michelle and I won a game of beer pong after I sunk the last cup with my left handed trick shot!! If anyone asks team Care Beer Bears won.
On another note - I would like to mention that Adam and I went to Halloweekends at Cedar Point on October 25th and we had mostly a miserable time which is why I didn't post about it. The dragster was down, the fast lane ruins the regular lines and it was the most crowded amusement park I have been in in a long long time. We have gone to Halloweekends twice (
here
and
here
) and had no problems, but we will no longer being going to it or going to Cedar Point on any Saturday ever again.