Date
: Saturday, January 19, 2013
Type
: Out on the town, family
Cost
: $
Planned By
: Adam's Mom, Debbie!
There are a lot of Disney attractions for children. One I had never been to was Disney on Ice. When Adam's mom asked us if we wanted to go with my sister-in-law and her kids of course I said yes. I love Disney and I love watching ice skating on TV. Two great things put in to one.. and we had a short commute!
We met Debbie, Hayley, Madi and Jensen at the Quicken Loans Arena in Cleveland for the show. They got there pretty early, but we dilly-dallied and just got there with enough time to look around at all the cool things to buy. I really wanted a princess cup with a sno cone inside, but Adam didn't think it was worth $10.
Brave
a couple weeks before or we would have been so confused. And don't worry we watched
Tangled
during one of our first few dates. There were a few extra guests like Pinnochio and Cinderella's step sisters. My favorite was Ariel. It was a very extravagant part of the show and all the costumes and choreography was amazing. I also like those songs the best. All of the performances were great, and I would definitely go back to another Disney On Ice. I think we may have had more fun than some of the kids in the arena... especially since the ones behind us were talking about how they fell asleep during parts of the show.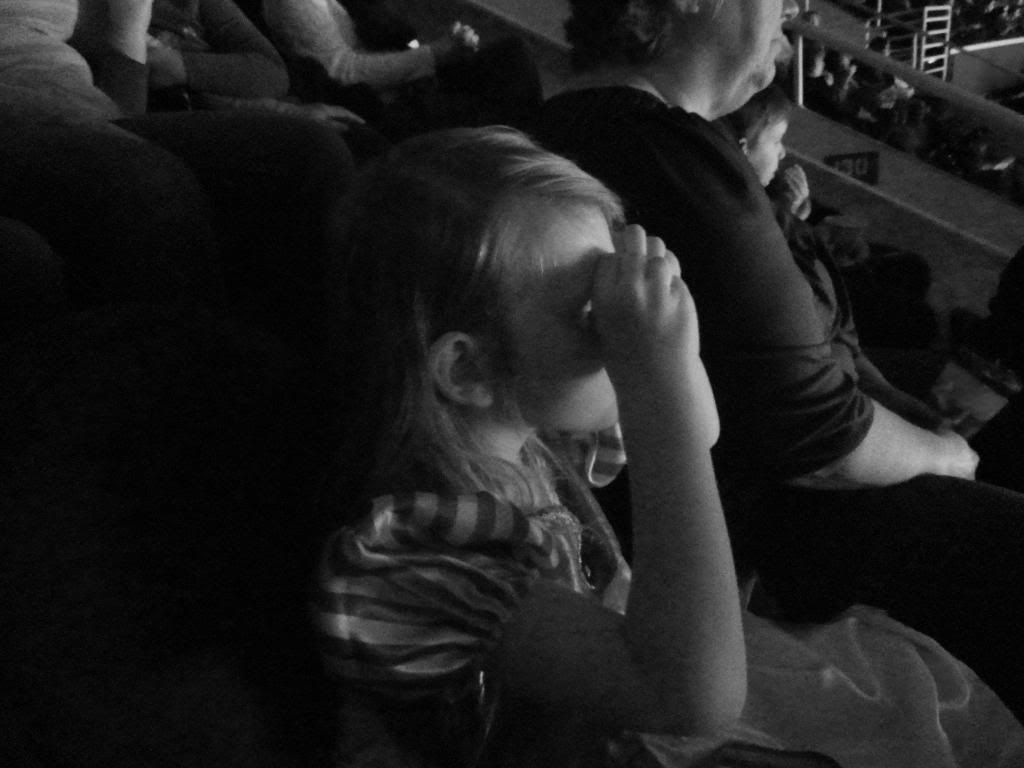 Madi had to use her binoculars.
After the show we all went back to our apartment. We ate Subway and the kids had a great time playing with their cousin, Obi. :)
We had tons of fun. I loved the entire show! I totally recommend going to see one of these whether or not you have a little kid to take with you!